Hi everyone! I'm in Asheville, NC right now, enjoying relatively cool days and beautiful green everywhere. Asheville is sandwiched between the verdant Blue Ridge and Smoky Mountains. There is quite a contrast between the misty green forest and this fiery image from Bryce Canyon NP in Utah – all I can say is WOW! I'm posting this now to give anyone interested in joining me enough time to plan. C'mon…decide and let's go!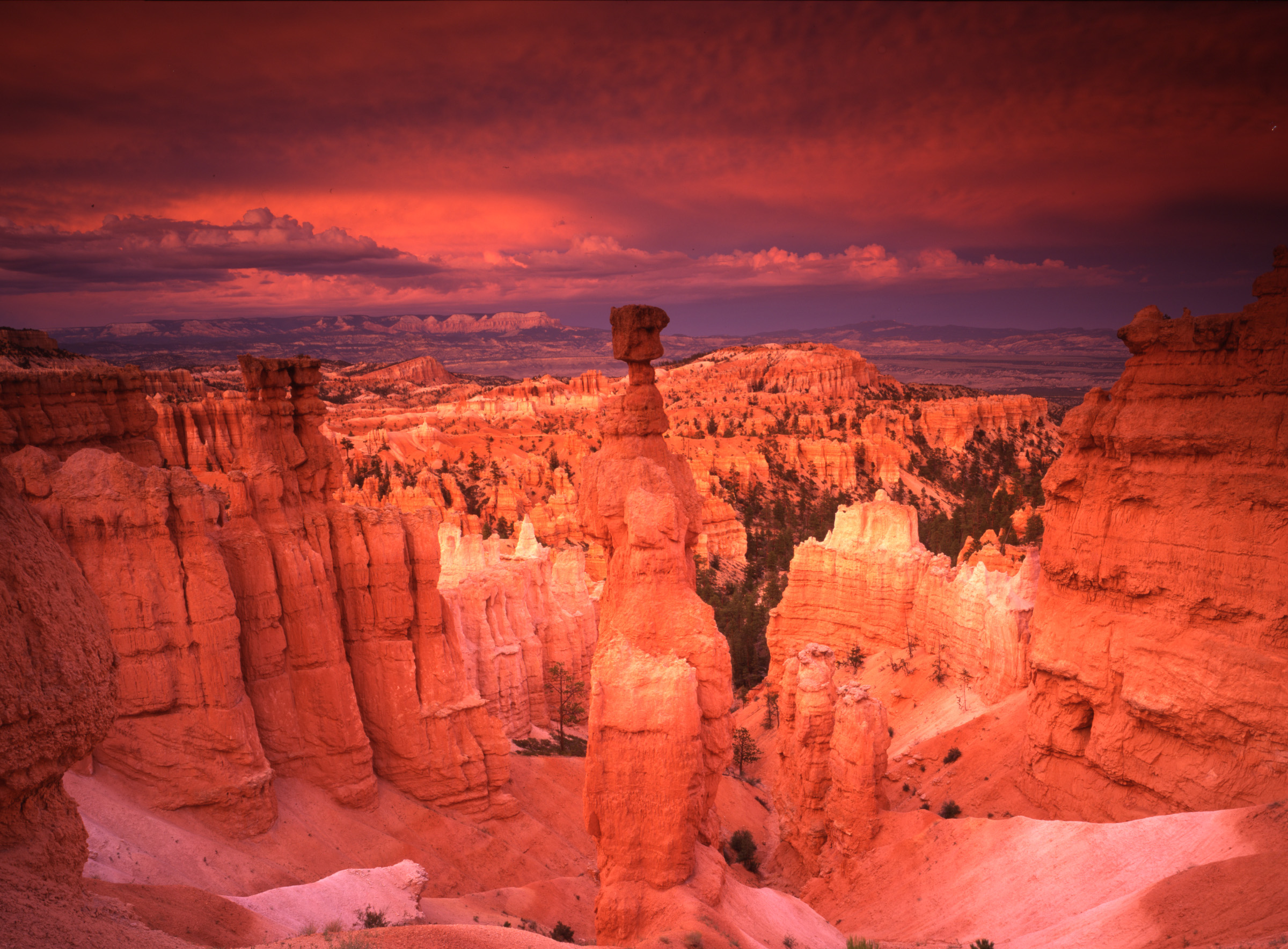 I hiked with friends over the weekend who got me really excited for my time in southern Utah. I'm currently doing this leg by myself, however I would enjoy having a travel partner for it. Expectations are really important when planning a trip together, so below I've detailed my rough plans and notes on my travel style for this particular trip. There is room for play with both the schedule and style. So let me know if you are interested and we'll chat. I'll be soliciting advice on trails later but feel free to leave any thoughts in the comment section here as well (comments are moderated, so it won't post immediately).

Overview: I'm planning a roughly 10 day route between September 4-16. I'll be starting from Santa Fe, NM and ending in Las Vegas, en route to California. The idea is to hike in Arches, Canyonlands, Bryce Canyon and Zion National Parks – plus any recommended stops along the way. I haven't researched specific trails yet, so I'm totally open on how many days are spent at each location. That's a lot of American the Beautiful for a 10 day stint but there is so much excellent hiking to fit in.
http://maps.google.com/maps?f=d&source=s_d&saddr=Albuquerque,+NM&daddr=Canyonlands+National+Park,+Moab,+UT+to:Arches+National+Park,+Moab,+UT+to:Bryce+Canyon+National+Park,+Tropic,+UT+to:Zion+National+Park+to:Las+Vegas,+NV&hl=en&geocode=FctYFwId_6Gk-Sl7gwnT3QoihzH99tm4zvjTwA%3BFZmhRgIdhpd1-SHfCj3tqZKUsA%3BFRkFTwIdPsB3-SGJDD5sPCzZyw%3BFZutPQIdmklQ-SEGbay–9jpaw%3BFT6PNwIdeMhD-SH1VjaqFToufA%3BFdYQJwIdMJoi-SnRffWkgre-gDGjebPV5tXMOg&mra=ps&sll=37.03772,-110.86222&sspn=7.556267,14.128418&ie=UTF8&t=h&ll=37.03772,-110.86222&spn=7.556267,14.128418&output=embed
Meeting up: For anyone not in the area, it makes the most sense for you to fly into Albuquerque and out of Las Vegas. Southwest has these routes well-covered, so flying open-jaw shouldn't be an issue. You would need to sign on for the whole time, unless you rented a car and met me.
Hiking: I prefer a mix of long and short day hikes. And while I try to stay off well-traveled trails, I'm not so people-phobic that I won't do popular routes – as long as they are highly rated. I'll be training for a 4 day backpack trip in Yosemite later in the month, so I will need to do some challenging hikes. But that could be 2 different hikes in one day, and you could hang at a cafe or museum during one. We certainly don't have to do everything together. I also enjoy some of the Ranger-led tours. The Rangers are generally quite knowledgeable and passionate about their jobs, so it's a great way to learn a lot without being glued to a guide book – plus you get your questions answered.
Lodging: If traveling solo, I plan to camp most nights. If traveling with a partner, I am open to booking an inexpensive room for part or even most of the trip. We can chat and determine our budget and tolerance for sleeping on the ground. I expect at least 2 nights out of the 10 would be rooms, maybe more. It's best to stay flexible on that one because when it's time for a bed, it's time for a bed! And we will definitely end the trip lounging by a swanky hotel pool in Las Vegas 😉
Anyway, if you're interested, we can discuss further details and see if we're a good match! And don't worry if we aren't BFFs – some of my best travel experiences have been with people I didn't know that well. We just need to be kind, open-minded and relatively compatible, style-wise.
Love, Audrey